Jazz-CD "The Berlin Nightbirds"
Wolfgang Mitschke
In the summer of 2005, Wolfgang Mitschke appeared in Jazz magazines for the first time with Jazz masters such as Albert Mangelsdorff, Charlie Mariano, and Don Friedmann and became known to a wider audience with his Fusion Jazz record "Night Over Berlin," published by SKIP-Records. A stylistically similar album with the title "Midnight Moods" was also released by SKIP in the summer of 2008. On these albums, Wolfgang Mitschke already understood to organically employ the technical possibilities "single-handledly" with perfectly sampled sounds of the piano, e-piano, bass, rhythm guitar, strings, and the drum in such a way to produce a full sound impression.

The recently completed transition to the world-renowned NAXOS record label is a new challenge for Wolfgang Mitschke. With "The Berlin Nightbirds," the rather publicity shy jazz pianist from Bonn, Germany, presents a new jazz album after an extended creative break. Standards of the Great American songbooks represent the lion's share on this CD's playing time. What is astonishing here are the tenacious musical interpretations of well-known titles such as "Manhã de Carnaval," "Blue Monk," or "Bye bye Bluebird." It becomes quickly clear that a musical aesthete is at work, demonstrated especially by the improvisations. Exciting narratives are revealed by pure joy of playing since it is not important to play as many sounds as possible but the correct ones: The "Piano-Lines" by Wolfgang Mitschke in "The Berlin Nightbirds" always appear charming and light-footed, which makes you want to listen. Just as the albums published so far, the new album contains several of his own compositions, among others, the song "Midnight Piano" and the title song "The Berlin Nightbirds." Wolfgang Mitschke combines elements of pop music, rhythm and blues, and Fusion Jazz in order to achieve the most catchy form of crossover jazz.

The jazz pianist from Bonn, Germany, describes himself as a self-taught artist: "I have been interested in jazz since childhood but never attended a university, instead always took advantage of private encounters with different musicians to find my musical orientation. The original starting point was the Jazz drums. Then, curiosity lead me to a different main instrument, the keyboards, which I essentially taught myself to play in private lessons. I am pleased to be able to publish my album "The Berlin Nightbirds" with NAXOS."

Wolfgang Mitschke plays Piano and Keyboards; Bass Programming and Drum Programming, Additional Keyboard Programming, additional Guitar Programming, additional String Programming by Wolfgang Mitschke

Produced by Wolfgang Mitschke
Executive Producer: Parida Wali

Special Thanks to Christoph Bette, Elmar Gillet, Bernd Krickel, Peter Ehlert, Anett Albrecht, Matthias Lutzweiler, Parida Wali, Catarina Mrenes and the whole team of NAXOS, Petra Johnson, Wolfgang Lingemann, Russell Ferrante (Yellow Jackets), Tom Schuman (Spyro Gyra), Fritz Pauer (ORF-Big-Band Wien), Jan Lundgren, Iiro Rantala and the legendary Joe Sample for inspiring me in playing piano, Joannis Josifidis and the whole Team of Ristorante Nea Olympia for good meals over all the years.


Order at amazon
Order at jpc
Wolfgang Mitschke on Wikipedia (German)
Listen to Wolfgang Mitschke on Spotify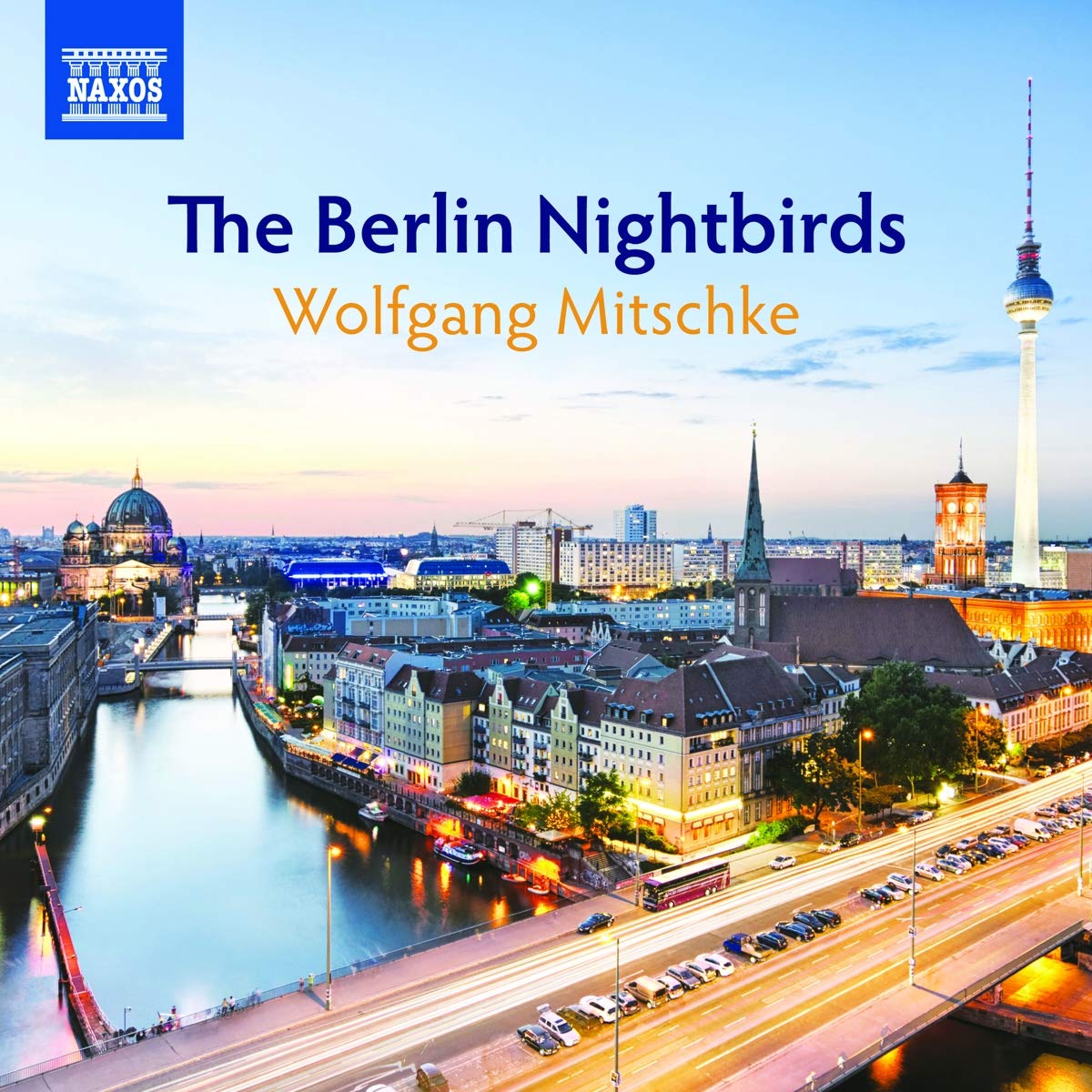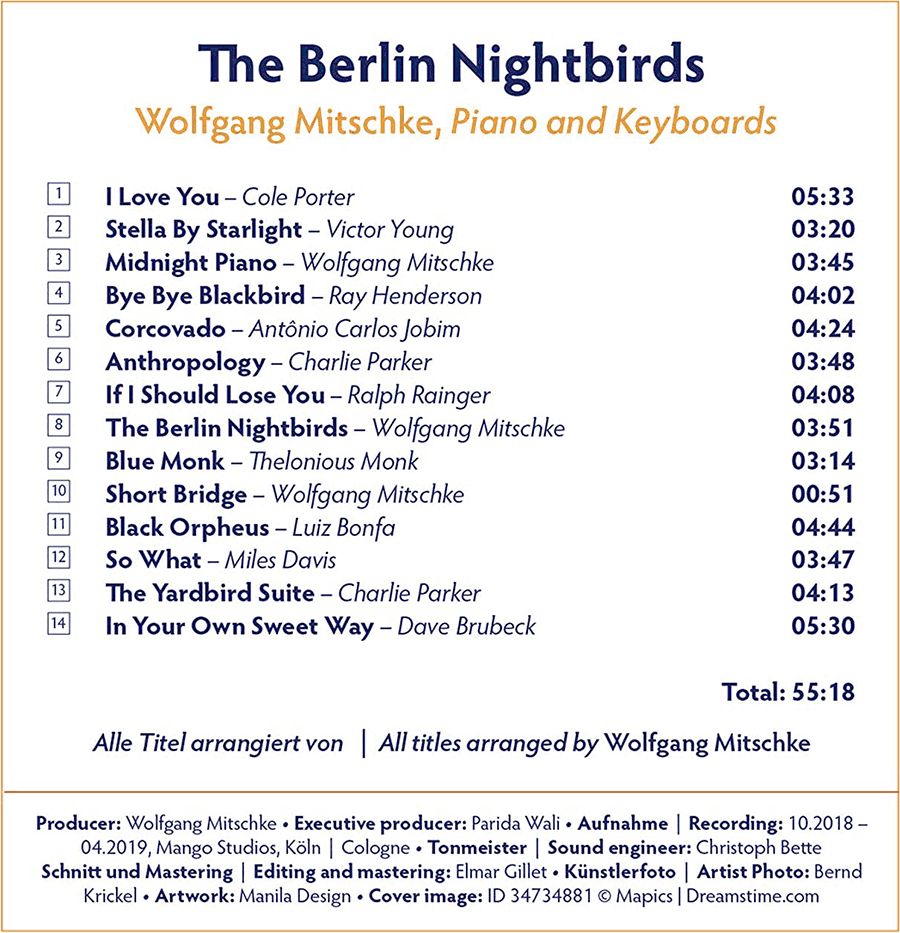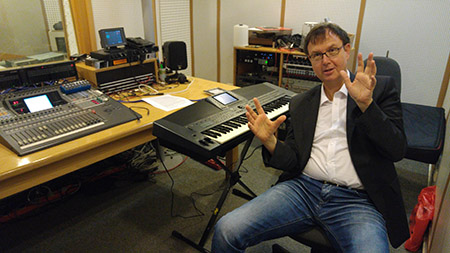 Photo taken while recording at Mango-Studios in Cologne
October 2018